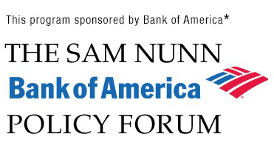 The Sam Nunn Bank of America Policy Forum brings together noted academic, government, and private sector experts on technology, public policy, and international affairs to address issues of immediate importance to the nation.
Open to the public, the Policy Forum was developed from former U.S. Senator Sam Nunn's vision of increasing understanding among policymakers, academic researchers, technologists, and citizens. Senator Nunn is a Distinguished Professor at The Sam Nunn School of International Affairs at Georgia Tech.
The Policy Forum is designed to connect the academic and policymaking communities to craft effective and creative responses to critical challenges confronting the United States in the twenty-first century. Transcending disciplinary boundaries and engaging scholars, practitioners, students, and interested citizens, the Policy Forum offers a significant venue for policy-relevant research and dialogue. Insights and findings produced at the forum are shared with policymakers and the broader public through congressional testimony, circulation of proceedings, policy papers, journal articles, and educational television and Internet broadcasts.